Patient support services
ServierONE offers patients helpful resources and tools for navigating treatment care, costs, and education throughout their journey.
ServierONE Patient Support Services for TIBSOVO (ivosidenib tablets) includes:
Support with insurance coverage and reimbursement

Financial assistance to help patients pay for TIBSOVO

Prescription fulfillment through our network of specialty pharmacies and distributors
To receive more information
VISIT ServierONE.com
OR
CALL 1-800-813-5905
Ordering and distribution network
Ordering and distribution network
National Drug Code (NDC)
NDCs

10-digit code: 72694-617-60

11-digit code: 72694-0617-60

Dosage strength

250 mg/tablet

Description

250-mg tablet: Blue oval-shaped film-coated tablet debossed "IVO" on one side and "250" on the other side
The red zero converts the 10-digit NDC to the 11-digit NDC. Some payers may require each NDC to be listed on the claim. Payer requirements regarding the use of NDCs may vary. Electronic data exchange generally requires use of the 11-digit NDC.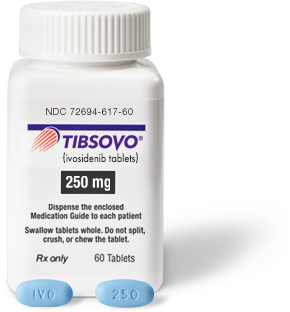 Distribution network for TIBSOVO
TIBSOVO is only available through our specialty distributors and network specialty pharmacies.
Specialty distributors
TIBSOVO is available through specialty distributors for shipment directly to office- or hospital-based pharmacies.
Network specialty pharmacies
TIBSOVO ships directly from the specialty pharmacy to your patient's home or preferred location.
TIBSOVO resources for you and your practice
PATIENT/CAREGIVER RESOURCES
TIBSOVO resources for your patients and their caregivers
These resources may be useful to patients and caregivers throughout treatment with TIBSOVO