TIBSOVO® was studied in patients with difficult-to-treat AML1
Selected baseline demographic and disease characteristics (N=28)1
Median age (years) (min, max)
77 (64, 87)
ECOG PS
0
21%
1
57%
2
18%
3
4%
ELN risk category
Intermediate
32%
Adverse
68%
Transfusion dependent at baselinea

61%

Type of AML
De novo AML
21%
AML-MRC
68%
Therapy-related AML
11%
Prior HMA for antecedent hematological disorder

46%

aPatients were defined as transfusion dependent at baseline if they received any RBC or platelet transfusion occurring within 56 days prior to the first dose of TIBSOVO.1
Comorbidities that precluded the use of intensive induction chemotherapy included: baseline ECOG PS ≥2, severe cardiac or pulmonary disease, hepatic impairment with bilirubin >1.5 times the upper limit of normal, or creatinine clearance <45 mL/min1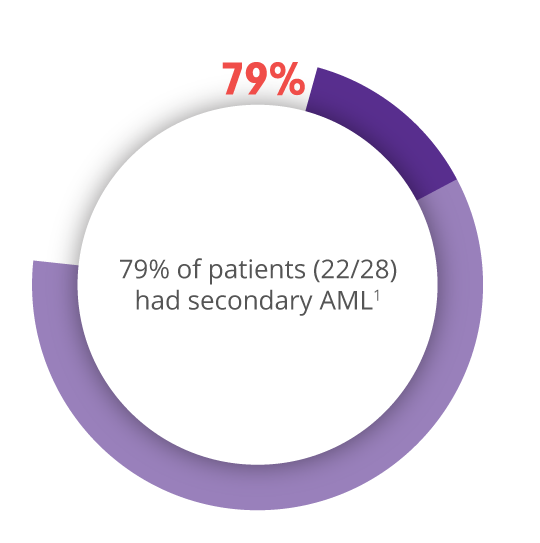 11%
Patients who had therapy-related AML1
68%
Patients who had AML-MRC1
50% of patients had a history of MDS2
46% of patients had prior HMA therapy for an antecedent hematologic disorder1
ECOG PS, Eastern Cooperative Oncology Group Performance Status; ELN, European LeukemiaNet; HMA, hypomethylating agent; MDS, myelodysplastic syndrome; MRC, myelodysplasia-related changes.
TIBSOVO delivered strong and durable responses as an oral, single agent in difficult-to-treat disease1,2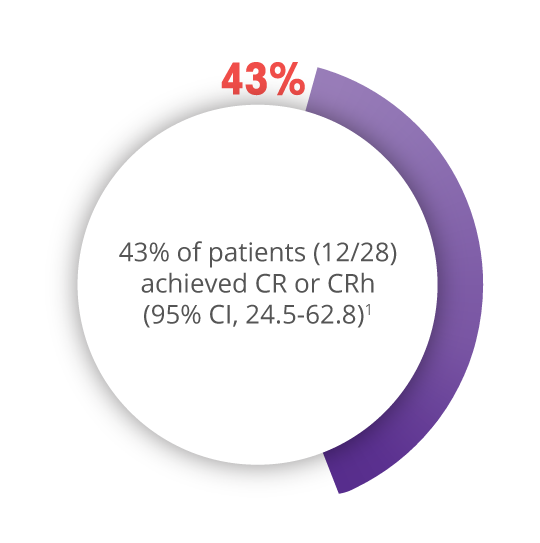 28.6% (8/28) achieved CR (95% CI, 13.2-48.7);
14.3% (4/28) achieved CRh (95% CI, 4.0-32.7)1
58%
of those who achieved CR or CRh (7/12) were in remission at
12 months
after initiating treatment
2
Median duration of response1,b
DOCR
DOCR+CRh
NE (95% CI, 4.2-NE)
NE (95% CI, 4.2-NE)
bDOCR and DOCR+CRh were defined as time since first response of CR or CR/CRh, respectively, to relapse or death, whichever is earlier.1
Median DOCR and median DOCR+CRh were not estimable (NE), with 5 patients (41.7%) who achieved CR or CRh remaining on TIBSOVO treatment (treatment duration range: 20.3-40.9 months).1
Time to response in patients who achieved CR or CRh1,2
Transfusion independence was seen in 41% of transfusion-dependent patients who received TIBSOVO1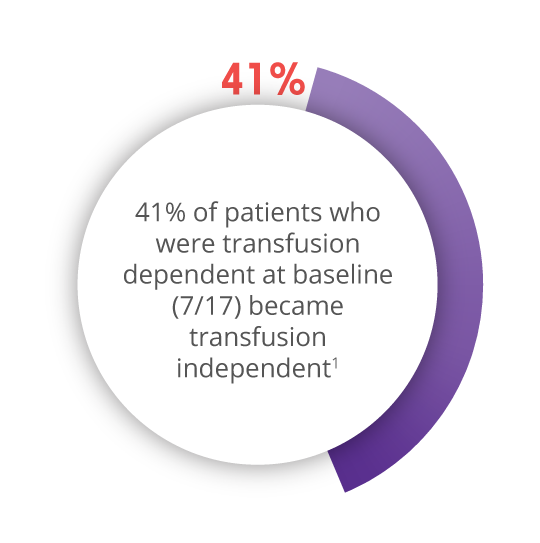 55% of patients who were transfusion independent at baseline (6/11) remained so1
Patients were defined as transfusion dependent at baseline if they received any RBC or platelet transfusion occurring within 56 days prior to the first dose of TIBSOVO. Patients were defined as transfusion independent if they became independent of transfusions during any 56-day postbaseline period1
RBC, red blood cell.
Reference: 1. TIBSOVO [package insert]. Cambridge, MA: Agios Pharmaceuticals, Inc.; 2019. 2. Data on file. Agios Pharmaceuticals, Inc.