IDH1 mutations can play a critical role in the development of AML1-4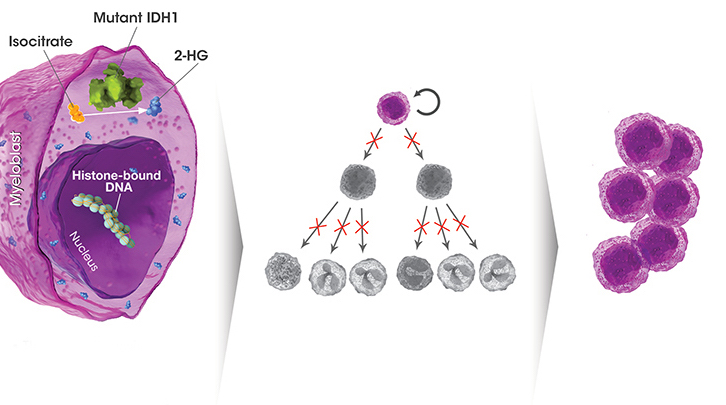 IDH1 mutations are
driver mutations

and occur in

6% to 10%

of patients with AML2-4
IDH1 mutations have been associated with a
negative prognosis

in AML5,6

2-HG, 2-hydroxyglutarate.
Test for IDH1 mutations at diagnosis so you can offer targeted therapy to appropriate patients7
Patients without IDH1 mutations at diagnosis should be retested at relapse because a mutation in IDH1 may emerge during treatment and at relapse7
In the pivotal trial, IDH1 mutations were identified by a local or central diagnostic test and confirmed retrospectively using the Abbott RealTime™ IDH1 assay, which is the FDA-approved test for selection of patients with AML for treatment with TIBSOVO7
ASH, American Society of Hematology; CAP, College of American Pathologists; NCCN®, National Comprehensive Cancer Network®.
TIBSOVO targets the mutant IDH1 enzyme to restore myeloid differentiation1,7
In blood samples from patients with AML with mutated IDH1, ivosidenib decreased 2-HG levels ex-vivo, reduced blast counts, and increased percentages of mature myeloid cells7
Ivosidenib was shown to inhibit selected IDH1 R132 mutants at much lower concentrations than wild-type IDH1 in vitro7
Susceptible IDH1 mutations are defined as those leading to increased levels of 2-HG in the leukemia cells and where efficacy is predicted by 1) clinically meaningful remissions with the recommended dose of ivosidenib and/or 2) inhibition of mutant IDH1 enzymatic activity at concentrations of ivosidenib sustainable at the recommended dosage according to validated methods7

Susceptible IDH1 mutations are R132C, R132G, R132H, R132L, and R132S7
References: 1. Data on file. Agios Pharmaceuticals, Inc. 2. Stone RM, Choe S, Zhang V, et al. Genetic profiling and deep IDH1 mutation clearance to ≤0.04% in ivosidenib (AG-120)-treated patients with mutant IDH1 relapsed or refractory and untreated AML. Poster presented at: 59th American Society of Hematology Annual Meeting; December 9-12, 2017; Atlanta, GA. Poster 2684. 3. Molenaar RJ, Maciejewski JP, Wilmink JW, van Noorden CJF. Wild-type and mutated IDH1/2 enzymes and therapy responses. Oncogene. 2018;37(15):1949-1960. 4. Chou W-C, Peng K-Y, Lei W-C, et al. Persistence of mutant isocitrate dehydrogenase in patients with acute myeloid leukemia in remission. Leukemia. 2012;26(3):527-529. 5. Xu Q, Li Y, Lv N, et al. Correlation between isocitrate dehydrogenase gene aberrations and prognosis of patients with acute myeloid leukemia: a systemic review and meta-analysis. Clin Cancer Res. 2017;23(15):4511-4522. 6. Feng J-H, Guo X-P, Chen Y-Y, Wang Z-J, Cheng Y-P, Tang Y-M. Prognostic significance of IDH1 mutations in acute myeloid leukemia: a meta-analysis. Am J Blood Res. 2012;2(4):254-264. 7. TIBSOVO [package insert]. Cambridge, MA: Agios Pharmaceuticals, Inc.; 2019. 8. Referenced with permission from the NCCN Clinical Practice Guidelines in Oncology (NCCN Guidelines®) for Acute Myeloid Leukemia V.3.2019. © National Comprehensive Cancer Network, Inc. 2019. All rights reserved. Accessed June 3, 2019. To view the most recent and complete version of the guidelines, go online to NCCN.org. The National Comprehensive Cancer Network makes no warranties of any kind whatsoever regarding their content, use or application and disclaims any responsibility for their application or use in any way. 9. Arber DA, Borowitz MJ, Cessna M, et al. Initial diagnostic workup of acute leukemia: Guideline From the College of American Pathologists and the American Society of Hematology. Arch Pathol Lab Med. 2017;141(10):1342-1393.